FABOOL Laser CO2 Manual
Top Cover Assembly
Parts List
| Part | | Qty |
| --- | --- | --- |
| 810mm aluminum frame | 20*20mm | 2 |
| 529mm aluminum frame | 20*20mm | 3 |
| right-angle bracket | | 6 |
| M5×8 hex socket head cap bolt | | 12 |
| M5×8 low head bolt | | 6 |
| M5 T nut | | 26 |
| M5×25 low head bolt | | 4 |
| M5×12 hex socket head cap bolt | | 2 |
| M5×8 hex socket countersunk bolt | | 4 |
| M5 T washer | | 4 |
| gas spring | | 2 |
Frame Assembly
Assembly aluminum frame as shown in the picture.
Use right-angle bracket, M5 T nut, M5x8 hex socket head cap bolt.
(*Fix the 529mm aluminum frame in the middle temporarily for now and adjust the position later.)
Insert M5 T nut in the outside of frame on both sides.
Attach the last frame.
Next, attach hinges to the frame.
Use M5×8 hex socket countersunk bolt.
(*Put the frame at the center.)
Gas Spring Attachment
Use pre-inserted M5 T nuts inside the upper part of the frame. (both sides)
Put M5x25 low head bolt, M5 washer, and gas spring as shown in the picture.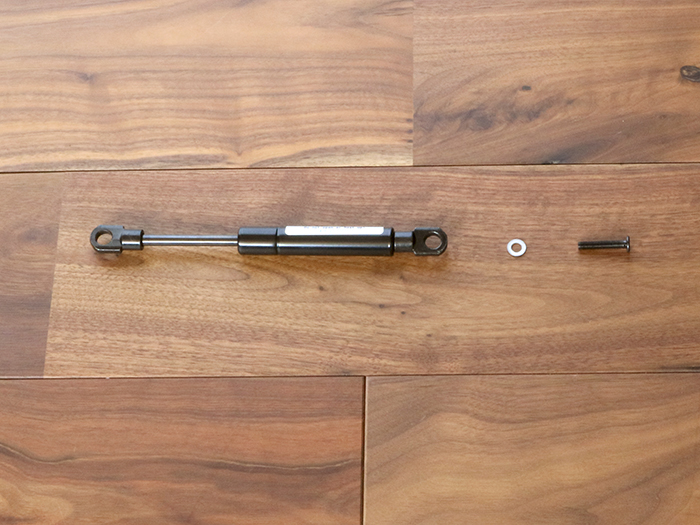 Fix it to the M T nus.
Fix the other end of gas spring to the top cover frame.
For the fixing position, place it so that the cover closes completely.
Fix the other gas spring at the same position on the other side.
Top Cover Attachment
Refer to the picture and attach two pieces of top cover with pre-inserted M5 T nut and six M5x8 low head bolts.
Attach the handle using two M5x12 hex socket head cap bolts.
Place the temporarily fixed center aluminum frame to the center of the handle and fix it.
Please make sure that the top cover and hinges do not hit each other.
This is the end of this chapter.